These 44 Countries Offer Working Holiday Visas to Australians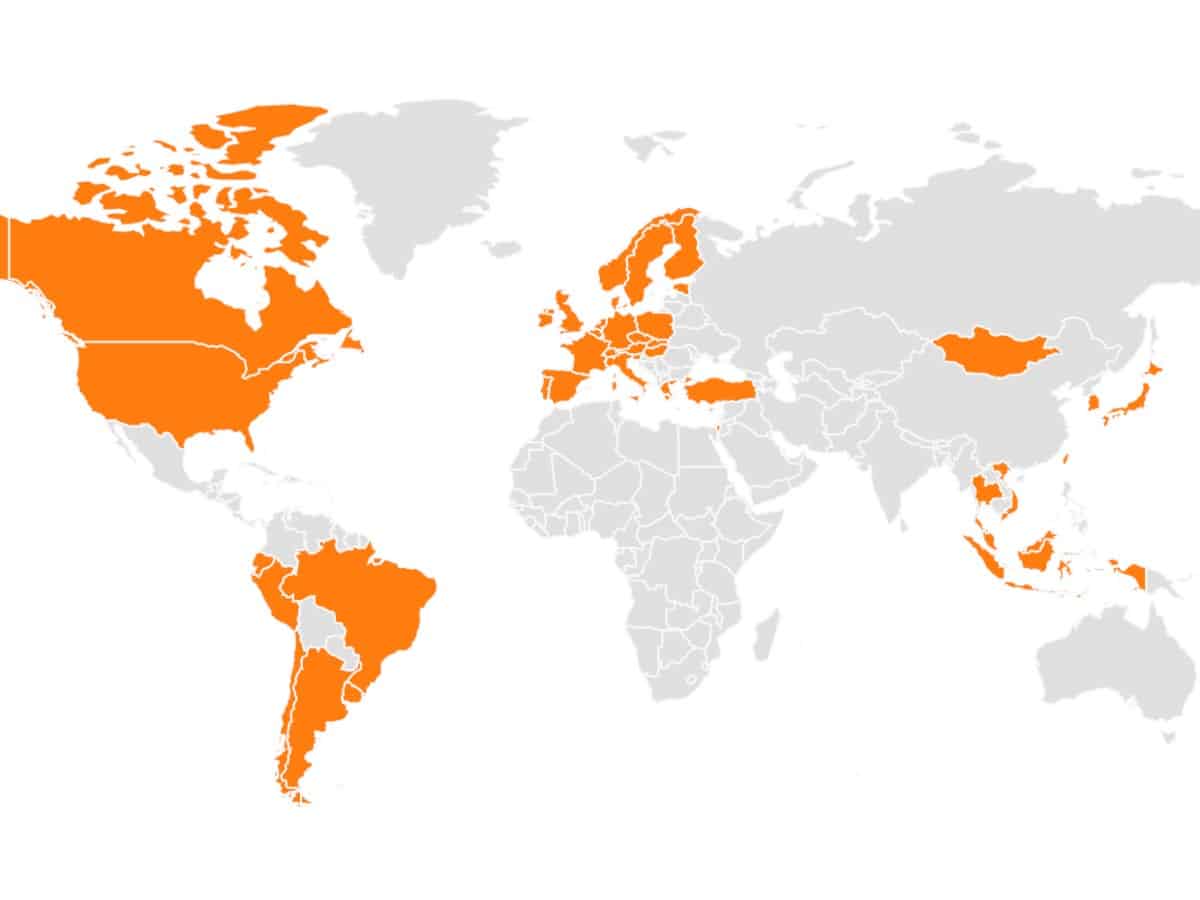 If you're an Australian citizen and thinking about travelling overseas for a working holiday, there are so many excellent opportunities available to you. That's because Australia has working holiday visa agreements with around 46 countries across four continents!
Australia attracts backpackers from all over the world. Alongside New Zealand, we're a highly sought-after destination for international backpackers, particularly from countries like the UK, France, Germany, South Korea, the United States and Chile.
The great news for Aussies is that most of Australia's working holiday agreements are reciprocal! So, Australians can also live & work in the countries that Australia itself welcomes backpackers from (except China and Mongolia at this stage).
Mongolia was added to the list on 1 July 2022. Australia is currently offering Work and Holiday visas to Mongolian citizens, but visas do not appear to be available yet in the reverse direction. We expect this to change soon.
The UK and Canada are especially popular working holiday visa destinations for Australians aged 18-30 (or up to 35 years old, in the case of Canada). But these aren't your only options! In fact, almost a quarter of all countries welcome young Australians on working holidays, generally for stays of up to one year.
Australian citizens can also freely live and work in New Zealand for an unlimited amount of time and without needing to apply for a visa.
What does a working holiday visa allow you to do?
Working holiday visas are intended for young people who want to take an extended holiday and experience life in another country, while allowing the opportunity to do a bit of supplementary work to finance the stay.
In general, a working holiday visa allows you to live in that country for up to a year. During this time, you are allowed to leave and re-enter the host country as often as you like.
You can also do some work and/or study during your stay, if you wish. You don't necessarily have to work in your destination country. But if you do, beware that some countries limit the amount of time you can spend working or studying on this type of visa. There may also be limits to the amount of time you can work for any single employer. (So if you're travelling overseas primarily for work, a work visa is probably more suitable.)
If you have a working holiday visa in a European country that's part of the Schengen Area, you'll also be able to travel freely around other countries in Europe for up 90 days out of every 180 days (COVID-19 permitting)! That said, you will only have the right to reside and work in the European country that issued your visa.
Common working holiday visa requirements
Each country has slightly different working holiday visa rules and requirements. But there are a few common criteria that Australian citizens need to meet in order to apply for working holiday visas in most countries.
Common requirements to get a working holiday visa in most countries include:
Aged between 18-30 years old (inclusive) at the time of application
(exceptions: 18-26 for Czech Republic, 18-31 for Portugal, 18-35 for France, Ireland, Canada & Denmark, and no age limit for USA)
Your primary reason for travelling is for a holiday, with any work or study being "incidental" to the holiday
Your passport will remain valid for at least 3-6 months after you plan to leave the destination country
You will not be accompanied by dependent children
You have not already completed a working holiday in the same country (except Peru)
Some other typical working holiday requirements that apply in some countries include:
You have enough savings to support yourself initially after moving to that country (typically around AUD5,000 but this varies by country)
You have a return flight booked to that country, or enough money to buy one
You do not have a criminal record
You have adequate travel insurance that will cover your entire stay in that country
In countries that offer Work and Holiday visas (rather than working holiday visas), additional prerequisites sometimes include:
You have a university qualification and/or have successfully completed at least two years of full-time higher education study
You speak the local language at a "functional" level
(This applies for Argentina, Chile, Ecuador, Indonesia, Peru, Portugal, Spain & Uruguay)
In some cases, you need to provide a letter of Australian government support with your visa application
For a detailed breakdown of working holiday visa rules, requirements & benefits for each country, see our Quick-Reference Overview of Working Holiday Visa Rules for Australians by Country.
Interactive map of countries that offer working holiday visas to Australians
Without further ado, these are all of the countries offering working holiday visas to Australian citizens. You can zoom in and hover over any country on the interactive map for more details, or click on any country to go to our dedicated working holiday visa guide for that destination….
You'll find the official list of countries on the Australian government's Department of Home Affairs website.
Breakdown by continent
Let's take a closer look at the full list of countries that offer working holiday visas to Australian citizens (or an equivalent program under a different name) in each continent.
Countries are listed in alphabetical order, by continent. Click on any country below to learn more about its working holiday program for Australian citizens and detailed instructions on how to apply for a visa…
Working Holiday Destinations in Asia
Working Holiday Destinations in Europe
Working Holiday Destinations in North America
Working Holiday Destinations in South America
Summary
In alphabetical order, these are the 44 countries that offer working holiday visas to Australian citizens as of 2023: Argentina, Austria, Belgium, Brazil, Canada, Chile, Cyprus, Czech Republic, Denmark, Ecuador, Estonia, Finland, France, Germany, Greece, Hong Kong, Hungary, Indonesia, Ireland, Israel, Italy, Japan, Luxembourg, Malaysia, Malta, Netherlands, Norway, Peru, Poland, Portugal, San Marino, Singapore, Slovakia, Slovenia, South Korea, Spain, Sweden, Taiwan, Thailand, Turkey, UK, USA, Uruguay and Vietnam.